Maintenance.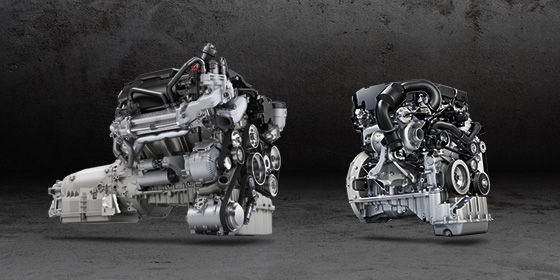 Mercedes-Benz service.
Maintaining your Mercedes-Benz shouldn't slow you down. And with our Mercedes-Benz Service, it won't. Wherever you turn, you'll find certified commercial technicians, heavy-duty state-of-the-art commercial equipment, and low commercial labour rates. Also, you can trust that no matter which Mercedes-Benz location you call-on, we'll help you get every ounce of power and efficiency out of your work van.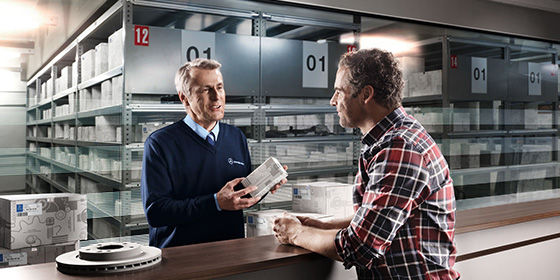 Mercedes-Benz genuine parts.
Successful van ownership not only involves the right people servicing your vehicle but the right parts as well. Mercedes-Benz Genuine Parts fit perfectly and are manufactured with the utmost quality to safeguard reliability, durability, and safety.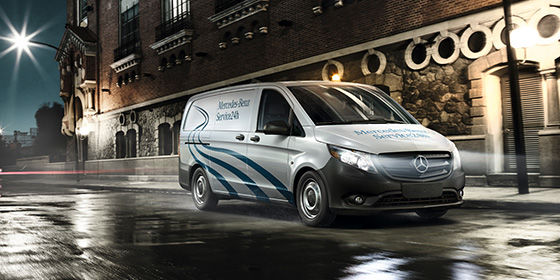 24-Hour roadside assistance.
If you happen to experience an unexpected stop along the way, Mercedes-Benz 24-Hour Roadside Assistance is always available to get you moving again. Give us a call and authorized personnel will be dispatched to your location to provide services like flat tire replacement, dead battery jumpstart, or fuel delivery should you happen to run out. Contact 24-Hour Roadside Assistance at 1-800-387-0100.1,2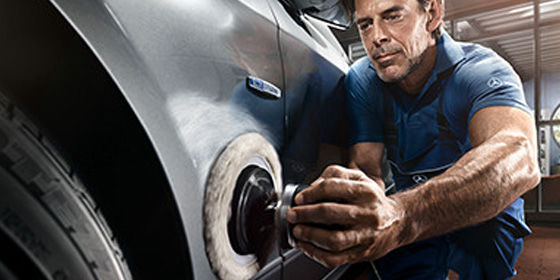 Collision repair service.
If you're ever in a collision, qualified repair experts are on hand at Mercedes-Benz Approved Collision Centres. They'll perform the repairs necessary to get your Mercedes-Benz van rolling again quickly. For more information, call the Customer Assistance Centre at 1-800-387-0100.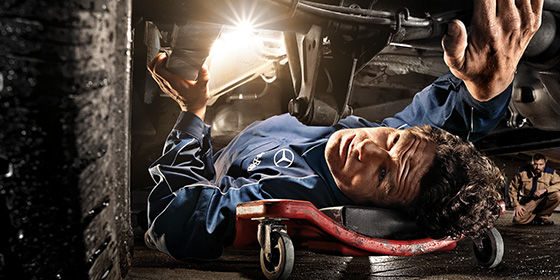 Extended service hours.
Select Mercedes-Benz services locations offer extended hours - so you can make an appointment that best fits your work schedule.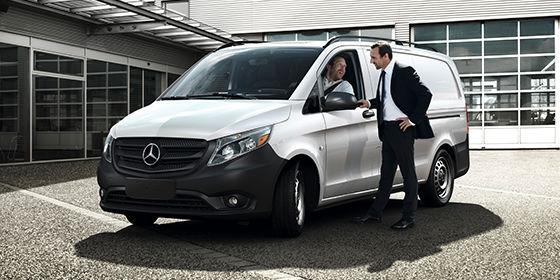 Loaner vehicle.
Should your van ever need service, Select Mercedes-Benz service locations provides a loaner vehicle to help with the workload while your van is serviced. Be sure to check availability when scheduling your appointment.2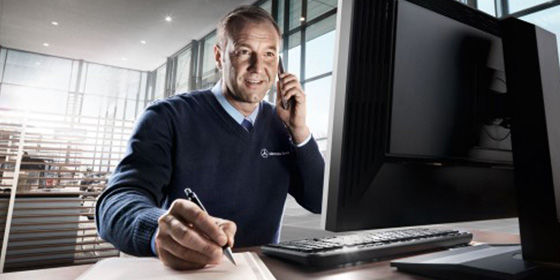 Priority scheduling.
Routine maintenance should never slow you down. That's why Mercedes-Benz Service offers you priority scheduling. Our aim** is next-day repair appointments, and maintenance appointments within three days. Our commercial service specialists are ready to get you moving.
**Service Restrictions:
Every attempt will be made for priority scheduling. However, MBC and its dealer network may not be able to offer you priority scheduling each time due to a variety of circumstances. Priority scheduling is dependent on each dealership's availability.
1 Sign and Drive services (flat-tire change, battery jumpstart, and refueling) will be performed at customer's expense.
2 Every attempt will be made by Mercedes-Benz 24-Hour Roadside Assistance to aid a customer. However, the following circumstances may limit our ability to provide service:
Restricted Roadway: Many provinces / cities have roadways in which they do not let unauthorized emergency road service in that area to assist.
Acts of Nature: Due to heavy snowstorms, flooding, or other acts of nature, the ability to obtain service may be limited or in some cases, unavailable. In these cases, you may be asked to call 911.
Vehicle Accessibility: Additional charges may apply for a breakdown location not reasonably accessible from a roadside location, as determined by our authorized technician or roadside service tow provider. These circumstances include, but are not limited to, parking garages that inhibit tow services' ability to access and retrieve disabled vehicles and vehicles at off-road locations.